chad


New look takes effect
Yeah yeah yeah, as a writer for the Timmy project,
I've been pressed to actually do my damn job. Boy,
the life a slacker, it's...well, not a pressure situation if
you get my drift. However, since Timmy got healthy,
the need to actually do things for the website became
important again. Once again, the site and Mules &
Vaughn are sorry for accidently killing Timmy. We're
also aware of a certain sect of people that did not like
us using a scab in Timmy's absense. It was
necessary, because we try to keep you guys
interested in a guy who jams things up his ass.

06.24.00 New design slowly taking effect. Also
updated the archives to reflect Timmy's recovery
as well as the new object, *NSync's album.

05.26.00 Proposed "World Tour" idea in the
works. For future details, watch this site!

05.01.00 New Timmy Animated Banner
completed for distribution on the internet.
Click Here for banner.

11.03.99 Added this picture of a loyal Timmy
supporter. The stickers are still available!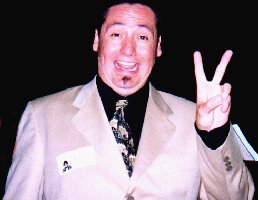 (Photo Taken At San Diego Comic-Con '99)
11.01.99 Added the October Item to the Archives.